Contributed by March 4, 2012.
Solomon William & Rebecca (Henson) Tremelling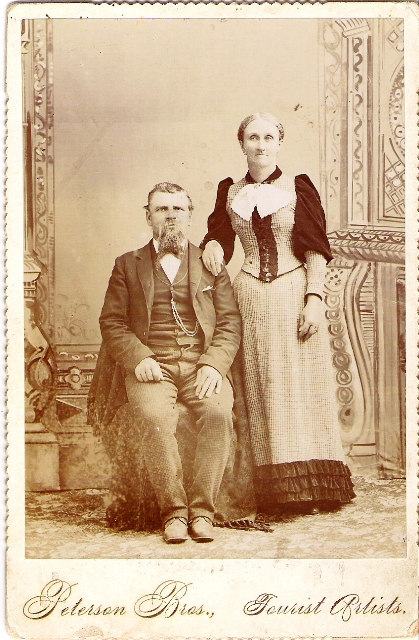 Solomon William and Rebecca Henson Tremelling were early pioneers of Bear Lake, Idaho, who immigrated to America from England on the ship photos.htmlSS Wyoming; arriving at New York in 1876 with their family of eight small children: Rebecca born 1861, Mahala Martha born 1863, William Solomon born 1865, Emma born 1868, Nicholas Thomas 1871, Solomon William 1872, Elijah Josephus born 1874 and Mary Elizabeth born 1876.
Crossing the plains along the Oregon Trail by wagons and dealing with many hardships along the way. They finally arrived at Wyoming in 1877 where they'd added another child Jessie Walter born 1877 to their household. By 1879, they had relocated into the Bear Lake Valley in the Southeast corner of Idaho, where they had three additional children: Thomas Henson born 1880, Harry born 1881 and Claude Ordidge born 1886 with a total of twelve Tremelling children.
The Tremellings was granted an 160-acres of land on the 1862 Homestead Act in Bear Lake, Homesteading, farming their land, and raising their twelve children to adulthood. In August of 1889, the Tremelling and their heirs were granted complete ownership of their land by the United States.
Solomon Tremelling was a talented musician, and in 1895 organized a brass band at St. Charles. Participating in activities all over the valley and in surrounding counties, Rich, Caribou, Lincoln and Star Valley. Playing at games, picnics, reunions, holiday functions, political meetings and dances. In 1904, when Rebecca Henson Tremelling died the band played at her funeral as a tribute to their beloved leader.
In 1908, Solomon remarried at St. Charles to Martha Ashworth Pugmire who was a widow. Solomon and Martha both died at Montpelier.
Solomon William born 1837 and died 1918. Rebecca Henson Tremelling born 1840 and died 1904. They are both buried at the St. Charles Cemetery along with several of their children and descendents.
To this day, many descendants of this family still reside in the state of Idaho.
Children of Solomon William and Rebecca Henson Tremelling
Rebecca married Isaac Hill,
Mahala Martha married Anthony Hagen,
William Solomon married Agnes Arnell,
Emma,
Nicholas Thomas,
Solomon William married Rose Ellen Lamborn,
Elijah Josephus married Edna Nelson,
Mary Elizabeth married Leonard Floyd,
Jessie Walter married Janet Robbins,
Thomas Henson married Mary McWilliams,
Harry married Caroline Johnston,
Claude married Harriet Hicks.
Solomon W. & Rose Ellen (Lamborn) Tremelling Jr.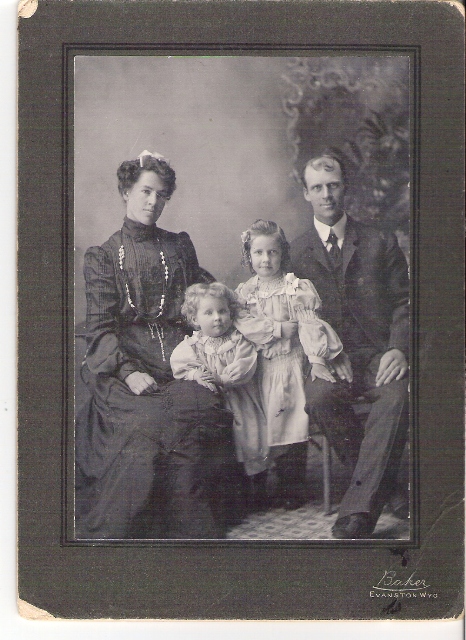 Solomon William Tremelling born 1872 in England, who immigrated to America as a small child with his parents, Solomon William Sr. and Rebecca Henson Tremelling in 1876. Sailing on the ship photos.htmlSS Wyoming entering New York at Castle Garden Port.
After crossing the plains with his parents and siblings. He grew up to manhood in Bear Lake, Idaho where he met and married Rose Ellen Lamborn on July 11m 1898 at St. Charles, Idaho. In 1902 he was baptized into the Church of Jesus Christ of Latter Day Saint (LDS) church.
Children born to this union were Beulah Tremelling born 1899, Rosalie Tremelling born 1902, Edwin Solomon Tremelling born 1905, Lowell George Tremelling born 1908, Clinton Lamborn Tremelling born 1910, Gifford Lamborn Tremelling born 1914 and Delmont Lamborn Tremelling born 1919.
Solomon and Rose Ellen relocated to Garden City, Rich, Utah sometime after Clinton was born and lived for several years, but later came back to Idaho, where Solomon died at Paris, Bear lake, Idaho in 1939. His wife Rose Ellen followed him death in 1943 at Soda Springs, Idaho. They are both buried at the Garden City Cemetery in Garden City, Rich, Utah.
Rosalie Tremelling Mercer
Rosalie Tremelling was born in 1902 at St. Charles, Bear Lake, Idaho to Solomon William and Rose Ellen Lamborn Tremelling. Her early years were spent in St. Charles, later moving to Garden City, Rich, Utah. Rosalie was baptized in 1910 in the LDS church. In 1922, she met and married John Forest Mercer at St. Charles, Idaho.
In the following years, they've moved to Wyoming, Utah, California, Washington and back again to Idaho where they've spent their remainder years. During these years four children were born to them, Norma Rose born 1923 in Wyoming, Clara Mae born 1928 in Utah and two babies that did not survive.
Rosalie Tremelling Mercer died at Sun Valley, Blaine, Idaho in 1971 and her husband John Forest Mercer died in 1970 at Hailey, Blaine, Idaho. They are both buried at Garden City, Rich, Utah, with their babies. Daughters Norma Rose Mercer (Myron) Wilde died in 1998 and is buried at Carey, Blaine, Idaho and Clara Mae Mercer (William) Jensen died in 1991 and is buried at Sedro Wooley, Skagit, Washington.
IDGenWeb Project's photos.htmlIdahoan Legacy Roots | All Rights Reserved © 2012, 2017